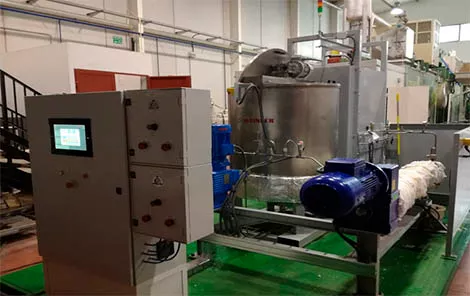 PYROLYSIS
Development of hydrothermal pyrolysis technology, and industrial demonstrator
Bio-based Industries, Energy ::
:: Material Innovation Lab
Every year, more than 20 million tons of animal-by-products (ABP) are produced as wastes in European slaughterhouses, representing a very significant part of the total amount of industrial and agri-food bio-wastes.
Pyrolysis processes can be used for bio-waste treatment, like ABP, obtaining biodiesel and high oleic acid oils, as well as other recycled sub-products like gelatin and collagen.
Our contribution to the ABP waste treatment and the biodiesel production, has been the development of a hydrothermal liquefaction (HTL) pyrolysis complete technology solution, including a pilot demonstrator with capability to process 50Kg/H of ABP category 1/2/3 wastes.
The whole design and development work involved:
Engineering design of the HTL pyrolysis plant: main reactor dimensions and structural design, materials selection and technical advice, parameter control instrumentation and sensing, and closed hopper structure and dimensions.
Design and development of three stage-reactor process (tri-zone reactor): compression of raw material at room temperature, drag and heat conditioning of raw material, and final cooling (and pressure release) zone.
Design and development of pyrolytic fraction separation by decantation and filtration.