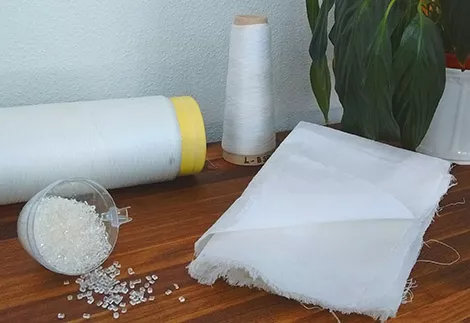 BIO-FIBERS
Development of textile and footwear applications based on the use of ligno-cellulosic wastes
Bio-based Industries ::
:: Material Innovation Lab
To provide the textile and the footwear sector with novel bio-based products, we designed and developed a technological solution to substitute of the cotton (and eventually viscous) fibers in the textile and footwear sector.
The product developed at our Material Innovation Lab, was based on the use of ligno-cellulosic wastes obtained from the processing and manipulation of wood and the manufacture, processing and recycling of paper. We obtained a fibre that could be yarned into a fabric, to be used in textile and in selected footwear components (like the cloth lining or the insole covering).
The main advantages of the bio-based fibres are:
No dependence from the worldwide cotton market variation (amount and price), ensuring fibre to transform into fabrics for 100% sustainable textile and footwear components articles, as well as direct fibre substitution.
Contribution to the management of industrial waste of wood and paper industry.
Easy introduction into textile and footwear component manufacturing: not requirements of new machinery or additional processing/manufacturing operations.
After the first public dissemination of this technology, DESINOPE was selected for Climate-KIC Accelerator 2016, a European program focused on helping SMEs with innovative and economically viable industrial solutions which contribute fighting against climate problems.